Cooling-off proposal in divorce cases should be conditional
By Wang Yiqing | China Daily | Updated: 2019-12-27 07:55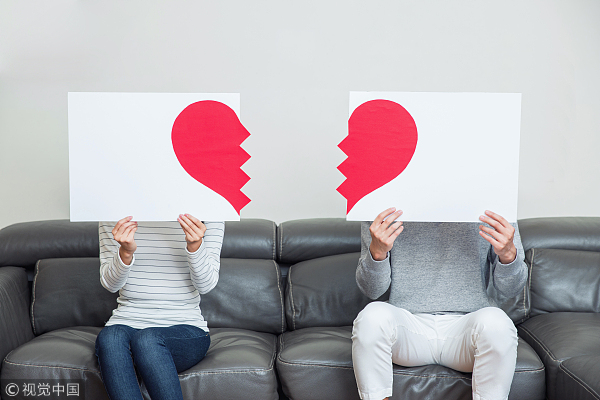 THE SO-CALLED COOLING-OFF PERIOD BEFORE A DIVORCE may not be applicable to all situations. Conditions should be included in the draft civil code to avoid undermining citizens' legal rights and interests. China Daily writer Wang Yiqing comments:
The draft civil code proposes a 30-day cooling-off period. During this period, either party can withdraw the divorce application from the marriage registration office.
The proposed regulation has triggered widespread public criticism.
Some people said it would hamper citizens' freedom in a marriage and increase unnecessary costs on both citizens as well as the authorities.
More importantly, this regulation could seriously undermine the rights, interests and even security of the parties concerned in a divorce application, since some extreme situations do not lend themselves to the so-called cooling-off period before divorce.
During the Standing Committee of the National People's Congress' review of the draft civil code on Dec 24, NPC Standing Committee deputy Li Yuefeng pointed out there should be a distinguishing mechanism before applying the so-called cooling off period in a divorce case, because it would be inappropriate in cases involving bigamy, domestic violence or desertion.
The intention behind the new regulation is to curb divorces on impulse and maintain stability in society, given the ever-increasing divorce rates in China.
But as a basic regulation that greatly impacts every citizen, lawmakers should consider pros and cons, in order to maximize its positive influence on society while avoiding violation of an individual's legal rights.
Divorce is a significant decision that can drastically impact an individual's life. One cannot groundlessly assume all divorce applications are impulsive decisions. That's why not all divorce applications should be eligible for the so-called cooling-off period.
For instance, if there's domestic violence or one of the parties indulges in gambling, a cooling-off period, which remarkably delays the divorce process, could cause serious psychological, physical and/or economical damage to the affected party.
Lawmakers should think twice about the applicable situations of cooling-off period before divorce to eliminate its negative influence.
And people should also think about the meaning of marriage calmly before getting married, and be responsible for their own decision.