Training, spirit propel naval team at its 1st Games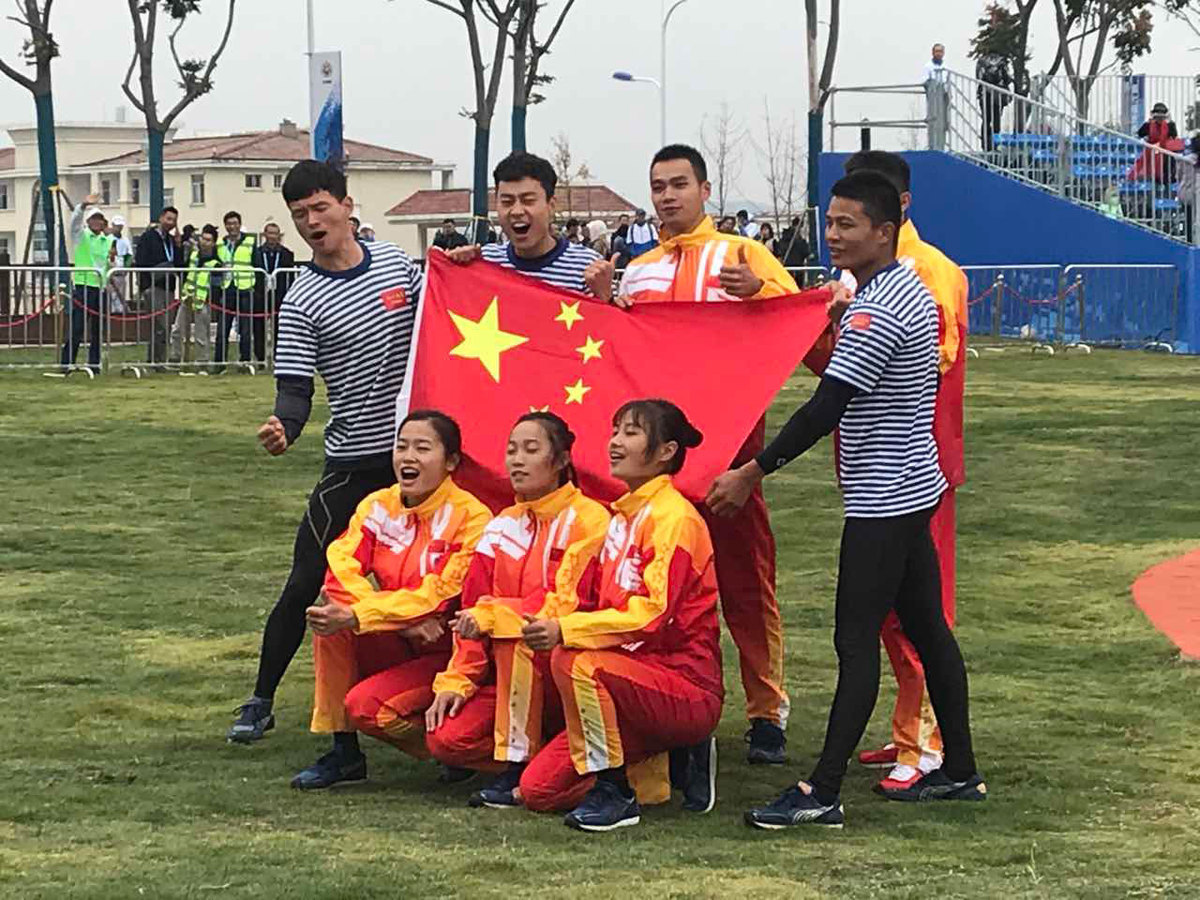 Hard training and fighting spirits are the main factors that contributed to the victory of the People's Liberation Army's naval pentathlon team in their debut at the 7th Military World Games, said Feng Yu, the team's head coach.
The team, established just two years ago, has pocketed all six gold medals on offer despite it being their first time participating in the games, which concluded in Wuhan, Hubei province, on Sunday.
The naval pentathlon, comprising men and women's individual, team and obstacle relay events, kicked off on Wednesday and ended on Saturday.
The individual and team categories included five races: obstacle, lifesaving swimming, utility swimming, seamanship and amphibious cross-country.
Each athlete was ranked with all five scores combined in the men's and women's individual. Teams were then ranked based on members' scores.
The last category, the men's and women's obstacle relay, ended on Saturday with China's men's and women's teams beating Brazil and Finland and reaping the last two gold medals on offer in this competition.
"Our daily training was very intense, so we had absolute confidence in winning," said Li Shun from the women's team, adding that their support team, coaches and team members had all made huge efforts, united as one and did their best.
Seventy athletes from 10 countries competed in the naval pentathlon. China sent three female and five male athletes to the event. The individual and team events ended on Friday after athletes completed the last of the five disciplines - the amphibious cross-country.
Zhang Na, Li Shun and Cecilia Sjoeholm from Sweden ranked in the top three in the women's all-around individual.
Guo Ziyuan won gold in the men's all-around individual.
Feng said he is "satisfied with their performance because they are the best", adding that although the team is still young, he could feel that all members have become increasingly stronger through two years of hard training.
"We strive to achieve better results for the country and the armed forces. We train for the highest standards," he said.
According to Feng, the naval pentathlon is a combination of actual combat and sports based on the requirements of the navy.
The amphibious cross-country, for example, simulates the real operations by marine troops and requires athletes to run a 2,500 meter course carrying rifles on their backs while completing rifle shooting, canoeing and throwing "grenades" during the course.
It is a comprehensive project that tests the athletes' all-around capabilities including physical fitness, mental strength, agility and coordination, Feng said.
"Especially when athletes come to the canoes. This is the most exhausting moment for athletes," Feng said. "Their legs are often completely stiff and can't run, but they must hang on. This is why when it comes to throwing, many athletes would lose their performance. They have consumed too much energy."
On average, team members are 23 years old and had never received professional training in these pentathlon disciplines before being selected for the team.
Despite being new to this program, Feng said the participants discussed their performances after each competition, dug into the strengths and weaknesses of their opponents and designed training plans to overcome their shortcomings and strengthen their abilities.
"They have overcome a lot to be what they are today," he said. "Sports, of course, are not just about the championship. It is also about showing the world the image and qualities of the soldier."