Chinese talent up to par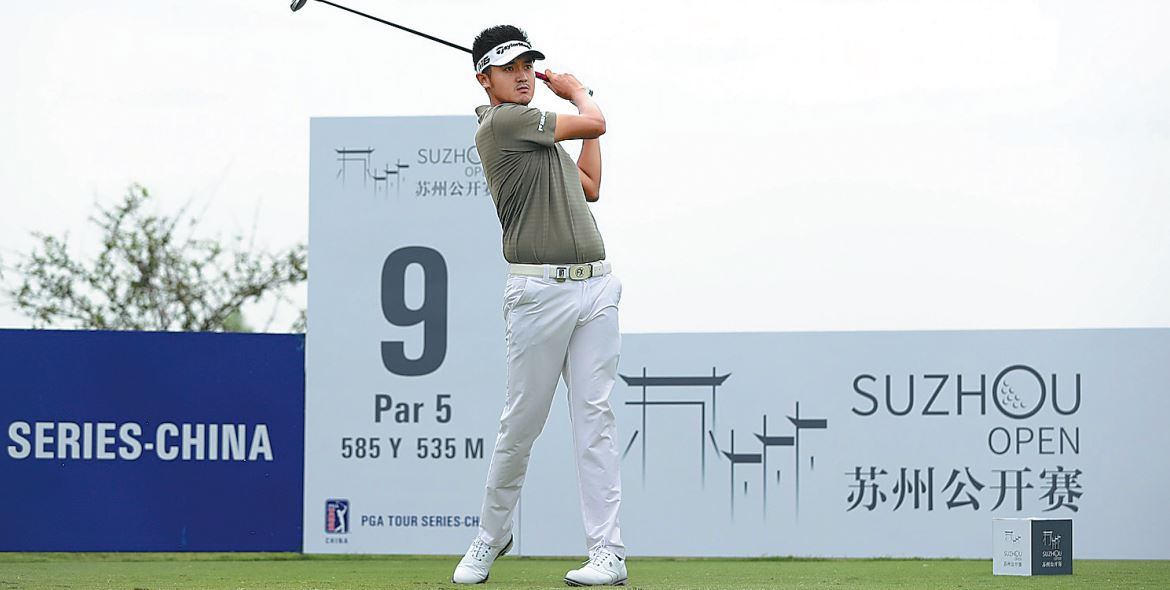 Homegrown contingent gaining experience and expertise against global crop
Li Haotong's emergence as a force in the elite ranks of global golf has given the PGA Tour Series-China every reason to reflect on a job well done.
China's No 1, currently ranked 40th in the world, is now a regular at the majors, including this week's US Open at Pebble Beach.
Not so long ago, the 23-year-old Li was honing his craft on domestic courses thanks to the pioneering work of the PGA Tour Series-China, which expects more of its young upstarts to follow in his footsteps.
"Without question this last five years has been the greatest period of growth in the history of golf in China," Rob Ohno, senior vice-president of the International Tours of PGA Tour, told China Daily in an exclusive interview on Thursday at the Suzhou Open in Jiangsu province.
"World-class players have emerged, with most of them coming from a PGA Tour Series-China background.
"It's terrific to see those players who have come from the PGA Tour Series-China succeed on golf's biggest stages. To date, nine players from China have won 16 of the 51 tournaments held during the series' first four years.
"That means in every third tournament, a homegrown player has won-by far the highest percentage among all countries represented on the tour.
"We believe the future is bright for players from China. We've seen the same thing happen with PGA Tour Latinoamerica, with players from countries such as Mexico, Argentina and Chile going to the PGA Tour via the PGA Tour Latinoamerica."
Since its inception in 2014, the PGA Tour Series-China has served as a ladder for China's top talent to climb into the elite international ranks, awarding Web.com Tour cards to its top five money winners.
On the Web.com Tour, PGA Tour cards are up for grabs.
Ohno is proud to list the Chinese who have graduated from the domestic tour, including Dou Zecheng, who became the first Chinese mainland player to win a PGA Tour-affiliated event in 2017, and Zhang Xinjun, who won the Web.com Tour's Dormie Network Classic in San Antonio, Texas, in April.
Li has made the biggest splash, finishing third at the 2017 British Open.
"Li Haotong is a great player and one of the best in the world," said Ohno. "Just five years ago, he was a 19-year-old finding his place in the game, dreaming big dreams. Now all serious golf fans know he is someone who is capable of winning any tournament he plays."
To nurture more winners like Li, the PGA is focusing its resources on developing youth golf.
"We hold junior clinics at our tournaments and at schools to introduce kids to golf," said Ohno. "They will never know if they're interested in the sport or if they have an aptitude for it unless they try.
"We need to expose more kids to the game, providing them with the access. We have programs for juniors at all our events in China, giving them chances to play in the pro-ams.
"This week we staged an 18-hole competition for juniors on a separate course here. We need to work together with the China Golf Association (CGA) and local governments to attract more kids to the game of golf."
Rookie pro Jin Cheng, who is playing at the Suzhou Open, is witnessing the improved standards in China week in, week out.
"The golf environment has improved so much in China," said Jin, who turned pro in January after winning bronze at last year's Asian Games.
"Especially quality tournaments such as those on the PGA Tour Series-China, which stages many junior clinics and pro-am competitions for youngsters to play with the pros on great golf courses."
But for all the strides made by Chinese golf recently, the PGA is well aware there is still much work to do.
"The main challenges the kids face are access to golf courses and equipment," said Ohno.
"That's why the PGA Tour Series-China pushes our junior golf initiatives all season long, so kids can have the chance to swing a golf club and to putt on a green."
The China Golf Association is also grateful for the PGA's efforts in developing the sport in the country.
"I really want to thank the PGA Tour Series-China," said Li Jinliang, an official from the CGA, in Suzhou.
"Since it entered China in 2014, it has built a competitive platform for Chinese golfers.
"Many young Chinese golfers have been tested here and it just keeps growing."