Clear measures set to control financial risks
By Chen Jia | China Daily | Updated: 2019-06-14 07:06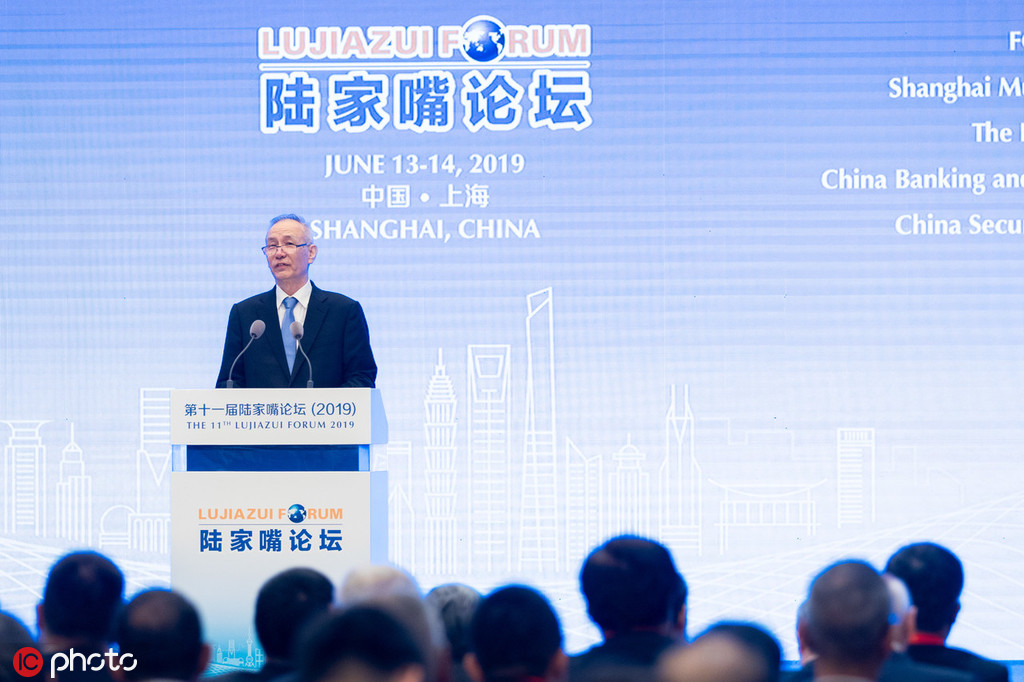 Vice-Premier: Institutions should enhance counter-cyclical adjustments
China's top financial regulators have warned about risks in complicated financial products and banks' off-balance sheet business, in a bid to prevent cross-market risk contagion, according to senior officials on Thursday.
Measures should be taken to "precisely" tackle different types of risk in the financial sector, and any contagion crossing regions and markets should be avoided, Vice-Premier Liu He said at the Lujiazui Forum in Shanghai on Thursday.
Contractionary effects, aroused by pro-cyclical activities and market expectations, could add to financial risks, according to Liu. "Financial institutions should enhance counter-cyclical adjustments and ensure liquidity is ample and reasonable."
For controlling financial risks, the financial regulators have taken specific measures and enhanced experience on dealing with the matter. The phased target of the battle-to prevent and defuse financial risks, has been achieved, Liu said at the forum.
Given some recent cases of stabilizing the domestic banking sector, "any systemic impact is likely to be manageable, because the measures are aimed at buffering the shock to local financial markets and economies and containing any potential contagion", said Yulia Wan, a senior analyst with Moody's.
Guo Shuqing, the People's Bank of China's Party secretary and head of the China Banking and Insurance Regulatory Commission, also warned at the same forum about strictly preventing the growth of financial products with complicated structures.
Financial instruments with multiple tranches have accounted for a large part of the wealth management products issued by commercial banks, or the "shadow banking" business, with potential risks that are hard to supervise.
High-risk assets declined by 13.74 trillion yuan ($1.98 trillion) in the past two years, because of the national campaign of tightening regulations on wealth and asset management products. As a result, the financial costs have been reduced, said Guo.
"Currently, there is a global trend toward easing financial regulation, which may give a new boost to 'shadow banks', and we need to pay more attention to that," he said.
Global shadow banking growth post-crisis has been fueled by increased bank regulation, low interest rates, a generally-benign economic backdrop, the rise of financial technology and increasingly supportive government policies to promote economic development and credit availability, said a report from Fitch Ratings, an international ratings agency.
Guo also warned about speculative activities in the property market. "Some property enterprises have occupied too much credit resources, which led to lower efficiency of capital and encouraged speculative investment in the property industry," he mentioned, warning of the high level of leverage in the household sector.
Financial regulators, however, should balance the risk-control moves against their desire to maintain credit availability, according to the Fitch report.
The financial regulators have encouraged banks to issue more loans to small and micro businesses, aimed to ease downside risks of economic growth. According to data from the CBIRC, by the end of May, the five largest commercial banks in China has increased lending to small and micro enterprises by 23.7 percent, compared with the volume at the end of 2018. The average lending rate was 4.79 percent, down by 0.65 percentage point from 2018. Meanwhile, the banks are coordinating with local governments for purchasing bonds.
Fitch expects Chinese shadow banking assets relative to nominal domestic GDP to contract further in 2019, declining to approximately 50 percent. In addition, Chinese banks, subject to their own capital adequacy constraints, are expected to continue to bring off-balance-sheet exposures back on to their balance sheets, helping to better manage the system-wide effects.