Defense lawyer admits his client killed scholar Zhang Yingying
By ZHANG RUINAN in New York | China Daily Global | Updated: 2019-06-14 00:35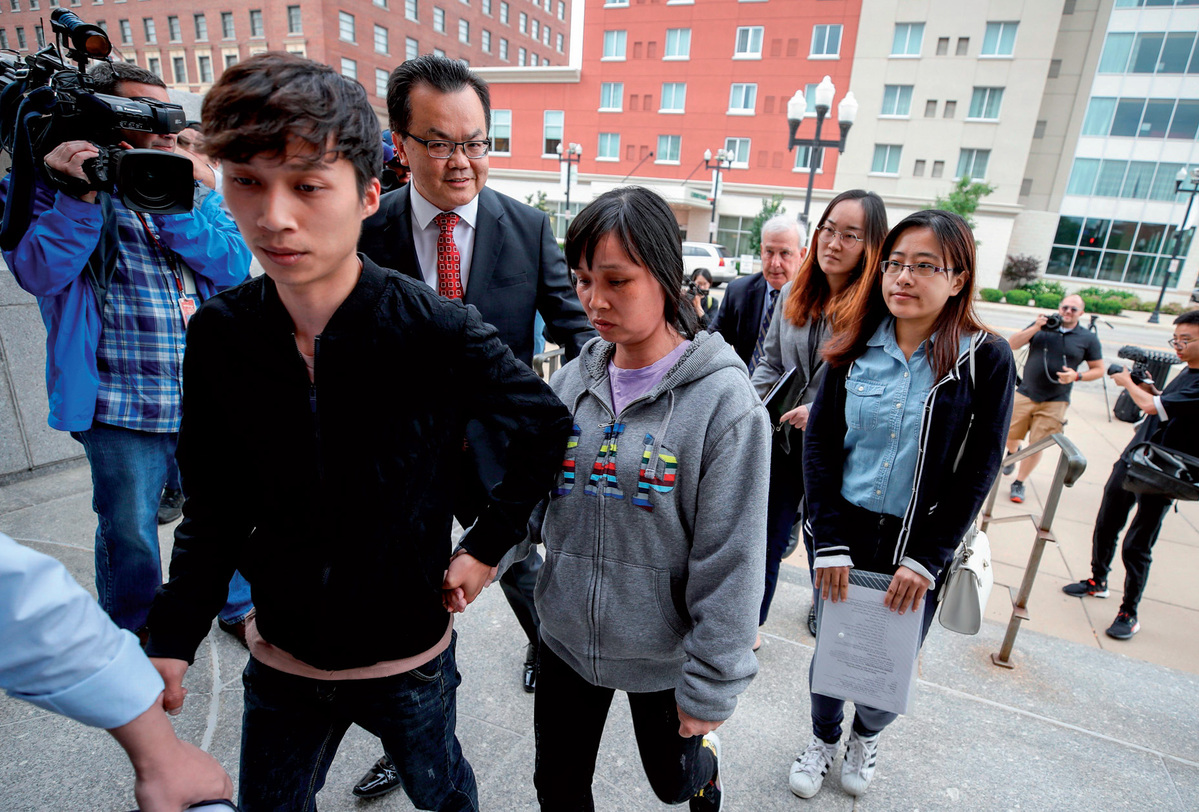 An attorney for Brendt Christensen, who is charged with kidnapping and killing Chinese visiting scholar Zhang Yingying in 2017, told a federal court judge in Illinois on Wednesday that Christensen has admitted killing the young woman.
"Brendt Christensen is responsible for the death of Yingying Zhang," said his defense attorney George Taseff in US District Court in Peoria, Illinois, as the trial started. "Brendt Christensen killed Yingying Zhang."
Taseff said the trial will proceed in an effort to spare Christensen, 29, the death penalty, saying Christensen is "on trial for his life" and there are several "factual issues" that must be debated before sentencing.
Besides the charge of kidnapping resulting in death, Christensen also faces a capital murder count as well as two counts of making false statements to the FBI.
Taseff's statement came after prosecutors spent 45 minutes outlining the gruesome details of Zhang's death, claiming the 26-year-old visiting scholar at UI was raped, beaten and decapitated inside Christensen's apartment in Champaign, Illinois.
In detailing the crime, federal prosecutor Eugene Miller said Christensen picked up Zhang, bound her hands and took her to his apartment where he raped her and choked her for 10 minutes while she fought for life.
He then put her in a bathtub, hit her in the head with a baseball bat, breaking open her head, decapitated her and then disposed of her remains at an unknown location.
Miller also detailed the government's evidence: surveillance video showing Christensen picking up Zhang on June 9, 2017, at an Urbana bus stop; a positive DNA match of Zhang's blood in Christensen's Champaign apartment; and finally, Christensen's own words in recordings obtained by his then-girlfriend, who agreed to wear a wire for the FBI.
During a recording made as Christensen and his girlfriend took part in a memorial walk for Zhang in late June 2017, he said Zhang was his 13th victim and "bragged" that the last serial killer "at his level was Ted Bundy", Miller said.
Bundy was a notorious serial killer who confessed to killing at least 30 young women and girls in the 1970s across seven states before he was executed in Florida in 1989.
Christenen allegedly said in the recording that he wanted to attend Zhang's vigil "to see how many people are here", he said. "They're here for me."
He added that Zhang's body would never be found and that her family, who had traveled from China to help locate her, would be "leaving empty-handed".
Miller also said Christensen cleaned his apartment and vehicle extensively in an effort to cover up the crime. But investigators located blood spots on his mattress and the baseboard of his bed, as well as on drywall, underneath carpet and on the baseball bat.
DNA tests conducted on the samples found a match to the blood of Zhang.
"He kidnapped her, he murdered her, he covered up his crime," Miller said.
However, the defense attorney claimed Christensen had been drinking heavily before the vigil, adding that there was no evidence to show Christensen had killed anyone before Zhang.
Prosecutors described Christensen as a man who had become infatuated with serial killers and had plotted a kidnapping and killing in the months before he lured Zhang into his vehicle on the Urbana-Champaign campus.
The defense lawyers aimed to depict him as a "brilliant" graduate student at the university but one who was dealing with substance abuse issues, a failing marriage and an increasingly troubled academic record. It said he had reached his lowest point on June 9, 2017, the date of the abduction.
"The defense position in court admitting that Christensen killed Yingying was a possible scenario that Mr. Wang and I as the attorneys for the family discussed with them," Steve Beckett, an Urbana-based attorney representing Zhang's family, told China Daily on Wednesday.
"However, mother, father, brother and boyfriend still must deal with this horrible tragedy by being there for Yingying every day in court during the trial," he said.
Wednesday afternoon, UIPD officers George Sandwick and James Carter testified about the search for Zhang. Carter was the officer who on June 14, 2017, spotted damage to the front passenger-side hubcap of the Saturn Astra that Zhang was seen entering. A piece was missing from the top of the hubcap, and the car also had a sunroof.
Those details matched the Astra that Christensen owned, according to local news website The News-Gazette.
Then UIPD Officer Tara Hurless testified that when she was first called on the case, she went to Willard Airport to see if Zhang, who was from East China's Fujian province, had taken any flights or rented any vehicles.
Assistant Professor Kaiyu Guan, whom Zhang worked for, testified about how she had applied for a PhD position and missed out but continued to seek opportunities.
"She showed great initiative," he said, adding that she was very hardworking, eager to learn and helped her colleagues.
Zhang went to the US to study photosynthesis and crop production at the university two months before she was reported missing. A professor and several of her classmates told police they were unable to contact her for hours, authorities said.
Christensen, originally from Wisconsin, and a onetime doctoral student at UI, has been held without bail since his arrest in June 2017.
The trial will resume at 9 am Thursday.